Your position:
>
Home & Living
>
Kitchen & Dining
>
Cooking Knives
FREE SHIPPING! We ship nationwide! 100 satisfaction guaranteed! We ship to all provinces and most cities throughout the Philippines. Cash on Delivery available on all orders.

⭐The Price is 46% lower than the average price of the industry⭐
Clever Cutter is the revolutionary 2-in-1 knife and cutting board that chops and slices your favorite foods in seconds!

The secret of the 2-in-1 design is the ergonomic power pressure handle which helps you to effortlessly cut through food fast!

Clever Cutter's premium blade and the extra wide mouth makes cutting fruits, veggies, meats and more fast, easy, and mess-free.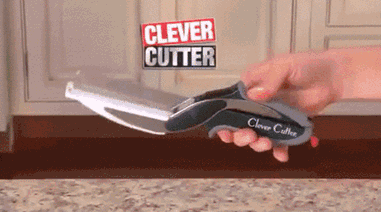 2 in 1: Combination of razor sharp stainless steel blades and carving board makes cutting, slicing, and dicing easy and fast.
Durable and Effective: We use stainless steel for the sharp blades, which cuts any product quickly and easily.
High-Quality Materials: A high-quality plastic is used for a built-in cutting board, which is sturdy and wearproof. The ergonomic handle design lets you work for as long as you like without getting tired.
Easy to Use and Clean: You can cut greens, vegetables in the bowl or frying pan quickly and easily without washing your working surface after cutting. Our unique kitchen device can be washed in the dishwasher or by hand.